People Outside The USA Must Have Different Taste Buds. Check Out The Weird Flavors Of Products You Love They Serve In Other Countries.
You'll either find the idea of some of these flavors really appetizing or totally gross! Either way, to the American palate, some of these flavors are pretty strange!
1. Seaweed, Soft-shell Crab, and Grilled Shrimp Flavored Pringles.

craphound
2. Lemon And Pepper Flavored Tang.

wordpress
3. Bacon Coke. (this might be good, actually!)

bitchslapmag
4. Green Tea Oreos.(really?)

blogspot
5. Grilled Corn Flavored Kit Kat Bars.

staticflickr
6. Ham Ruffles.

giantbomb
7. Pancake Drink.

comics212
8. Mountain Dew Cheetos.

philly
9. Hot And Sour Fish Soup Lays.

wordpress
10. Coffee Jelly Frappuccino.

wordpress
11. Squid-Ink Burger King Black Burger.

kinja-img
12. Steak Doritos.

napajapan
13. McDonald's Filet O'Shrimp.

foreignpolicy
14. Avocado Flavored Cheetos.

wordpress
15. Spaghetti Popsicle.

kinja-img
16. Horse Meat Ice Cream.

styledoor
17. Chocodilla.

buzzfed
18. Pizza And Spaghetti Slushees.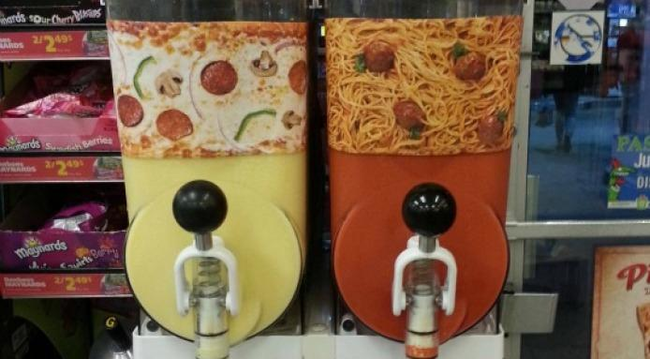 crosscast-system
19. Dry Pork And Seaweed Donut.

diet-blog
Sign up for the Grabberwocky daily email, see everything first!