Things So Insanely Giant...You Wont Be Able To Wrap Your Totally Blown Mind Around Them!
Here are some record holding creations and living things that are so huge, they'd almost be unbelievable if not for the fact that they are REAL. WOW!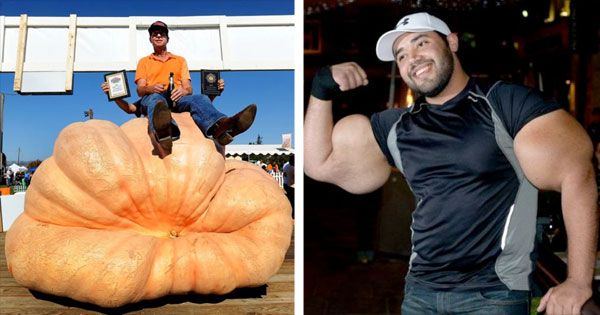 1. The largest pumpkin ever weighed 2,032 lbs. and was grown by Tim Mathison from California in 2013.
2. This is the world's largest swimming pool in San Alfonso De Mar Resort, Chile. It's over 3,000 feet long and 115 feet deep.
3. The world's largest floating vessel is the giant ship Prelude, which is longer than the height of the Empire State Building (1,601 feet). It hasn't launched yet, but it will serve Western Australia in 2017.
4. Beemster made the world's largest cheese wheel in 2006, at 6 feet wide and 1,323 lbs.
5. The largest pencil in the world, constructed by Ashrita Furman in Queens, New York, is 76 feet long and weighs over 18,000 lbs.
6. The largest book measures 16.4 feet by 26.44 feet, weighs 3,306 lbs, and has 429 pages. It's called This is the Prophet Mohamed.
7. The largest hamburger in the world weighed 2,014 lbs, was 10 m in diameter, and took four cooks and a crane to make.
8. The world's largest watermelon weighed 350.5 lbs, 42.5 lbs heavier than the previous record.
9. The largest lollipop weighed over 7,000 lbs and was created at See's Candies Lollypop Factory in Burlingame, California, in July 2012. It was chocolate flavored, and was approximately 5' x 3.5' x 12'.
10. The world's largest pizza (130 feet wide) was made by 5 Italian chefs in Rome in 2012.
11. The world's largest onion, weighing 18 lb., 1 oz., was grown by Peter Glazebrook. Glazebrook also grew the largest parsnip, beetroot, and heaviest potato.
12. Amateur body-builder Moustafa Ismail has the largest biceps in the world at 31-inches.
13. The Son Doong Cave, the largest cave in the world, is 30,000 feet long, 500 feet deep, and was only discovered in 1991!
Sign up for the Grabberwocky daily email, see everything first!