The Most Bizarre Themed Restaurants On The Planet. This is Appetizing?
Want atmosphere when you eat? Try one of these strange, weird and creepy restaurants. They'll either stimulate your appetite or scare the crap out of you!
1. Cannibalistic Sushi – Tokyo, Japan
At this restaurant, an edible entreé resembling a woman's body with "skin" dough and "blood" sauce is wheeled into the room on a hospital gurney and placed on a table. The hostess begins the meal by cutting into the body with a scalpel, and then patrons dig in, operating on the body to reveal edible "organs."


weirdasianews
2. Hitler's Cross – Mumbai, India

flickr
3. Hospitalis - Riga, Latvia
When you dine here, you must put on a strait jacket while you eat. You're fed by nurses. They server traditional Latvian fare, albeit, far from normal.


hospitalis
4. Heart Attack Grill - Las Vegas, Nevada
Larger customers eat free here. Those who don't finish their meals get spanked by waitresses dressed as nurses.


yelp
5. The Magic Restroom Cafe - City of Industry, California
Your food served in a toilet.


yelp
6. Hobbit House – Manila, Phillipines
Featuring a staff of "the smallest waiters in the world."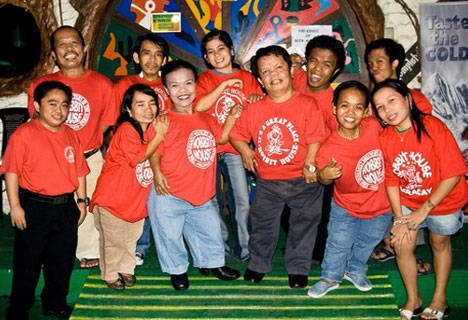 hobbithousemanila
7. The Trailer Park Lounge - Manhattan, New York
White trash theme. 'Murica! They serve burgers, margaritas, and other American fare.


yelp
Sign up for the Grabberwocky daily email, see everything first!