You Won't Believe What Insane Things These People Brought Onto The Subway!
Is this even legal? Here is a crazy collection of photos showing off some of the ludicrous things that people actually boarded the subway with! Really?
1. Not one, but two giant snakes.

thingsseenonthesubway
2. A pony...why not?

huffpost
3. A giant meat smoker...we're all confined in a tube.

gothamist
4. Onions and a chopping board. Sorry 'bout the tears and smell folks, but dinner can't be late. Yes, I have a knife.

collegehumor
5. A big bucket of fish. Ah, the sights and smells of the subway...

list25
6. This mini-car...couldn't you just drive where you are going then?

thingsseenonthesubway
7. Their surfboard. You're a long way from the beach pal.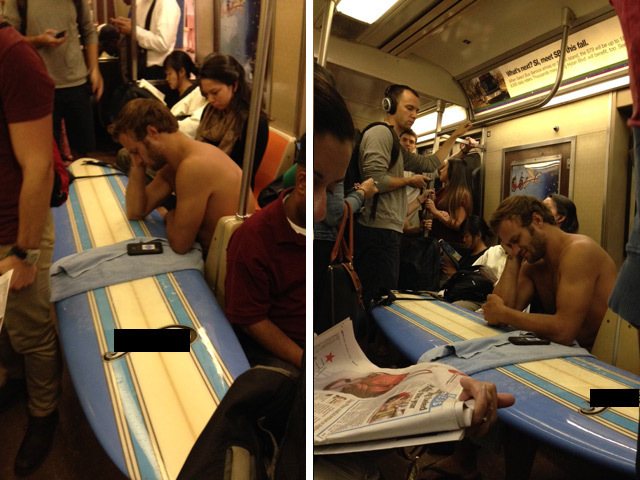 gothamist
8. Their moped. Why are you even taking the subway?

list25
9. Their own easy chair.

list25
10. This hideous couch.

gothamist
11. Their Yoga mat. What no time to go to an actual gym?

thingsseenonthesubway
12. These Beagles in a baby stroller.

thingsseenonthesubway
13. They hung a hammock. Where is ours?

thingsseenonthesubway
14. This swing. Lookout!

list25
15. This Barbie Jeep. Watch your toes!

thingsseenonthesubway
16. This giant picture of the "Cat Lady." Why would you take that anywhere, or even home?

thingsseenonthesubway
17. A dog, carried like an over-sized toddler.

thingsseenonthesubway
18. An old, giant television.

dailypicksandflicks
19. This frightened cat that appears ready to jump and run away ANY second...

thingsseenonthesubway
Sign up for the Grabberwocky daily email, see everything first!