Insane Oscars Outfits That Never Should Have Been Worn In Public! - Part 2
We expect crazy costumes at music awards shows, but not so much at the classier Academy Awards. Well, think again. Look at these...WHOA!
16. Geena Davis
She thinks she's in Las Vegas and is marrying some guy named Oscar.

fashionilluminati
17. Selma Blair
Don't get caught up in her web. There are strings attached.

marieclaire
18. Sacha Baron Cohen
At least this Dictator didn't come dressed like Borat.
19. Celine Dion
She's either a Kris Kross fan or got dressed in the mirror with her head turned the wrong way.

thesun.co.uk
20. SALLY KIRKLAND
...Just parachuted in for the show.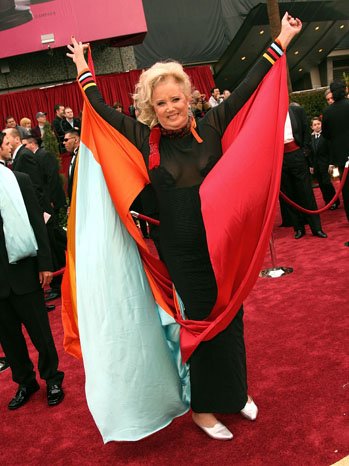 hollywoodreporter
21. Diane Keaton
Charlie Chaplin's sister?

thesun.co.uk
22. Anna Nicole Smith
They say the most beautiful thing you can wear is a smile. Looks like she messed that up too.

hollywoodreporter
23. Gwyneth Paltrow
Who's your designer, Goodwill?

marieclaire
24. Paris Hilton
Flintstones? Yabba dabba no.

thesun.co.uk
25. Emma Stone
She heard Sharon Stone was there and had to keep up with the Stoneses. Peek-a-boo!

youtube
26. russell brand
Didn't feel like dressing up. OK?!?!

esquire
27. Mickey Rourke
Mickey didn't feel like dressing up either. What are you gonna do about it, huh?

wordpress
28. Cher...again,
She was accused of overdressing, so she took it to the other extreme.

marieclaire
30. And finally in 1974...This Streaker...who wore nothing at all
Interviewer: Who are you wearing? Streaker: "God."

radaronline
Sign up for the Grabberwocky daily email, see everything first!