These Pictures Prove That Being A Dad Is The Toughest Job A Man Could Have. Welcome to Hell.
Think It's Easy Being A Dad? These 33 Pictures Prove The Answer is NOPE! Say goodbye to all your goofing around time...for a long time!
1. You improvise daily tasks. Like eating.

reddit
2. You are no longer free to play video games. To an extent.

reddit
3. You learn what it's like to have only one hand.

reddit
4. The smell of vomit and poo become commonplace.

diply
5. You'll start buying Legos. For the kid, of course. Sure.

reddit
6. Yes, you will have to change diapers too. Often.

demotivers
7. Everything is edible to a baby. Every. Thing.

reddit
8. They also like to lick. Every. Thing.

perfectionpending
9. This shirt might come in handy.

distractify
10. No, you can't look away, not even for a second.

arwrath
11. Don't sit on the kid. Really.

designgarage
12. No, you can't eat them either.

photobucket
13. Or drop stuff on them.

gifrific
14. Keep markers put away. Trust me.

newslinq
15. More than one kid? Even more important to keep your eyes on all of them!

awkwardfamilyphotos
16. Do not hold your child like this.

izifunny
17. Yes, they need Oxygen.

acidcow
18. I hope your reflexes are up to speed.

joyreactor
19. Children are not pets.

imgur
20. Seriously.

reddit
21. Your kid is more important than a ball. Get with it!

elitedaily
22. You'll need a sitter before going snowboarding.

boredomtherapy
23. Fail. This is not how to go the gym.

crossfit
24. This will happen many, many times.

gifbay
25. Please don't cook your baby.

reddit
26. Alcohol helps, but let's not throw it in the kid's face.

funnie
27. You will become a human trampoline.

blogspot
28. No matter how much they might think otherwise, they aren't as strong as you.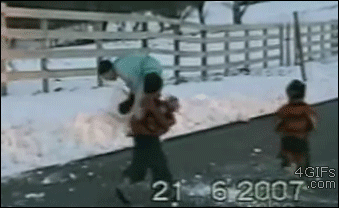 reddit
29. You'll become numb to a lot of things.

blogspot
30. You will never, ever be a lone. Ever.

thelaughingstork
31. Styling your hair will be useless.

awkwardfamilyphotos
32. You always have to be one step ahead.

joyreactor
33. If you have a son, pee will find you.

8bitdad
Sign up for the Grabberwocky daily email, see everything first!