These Babies Totally Nailed Their Very First Christmas Photo
The best bundle of Christmas joy is adorable babies like these. These 29 babies but the awwwww in awesome Christmas photos!
1. How Christmas babies are delivered.

Laura Jane newborn photographer: laurajanestudios.com
2. Cutest stocking stuffer ever.

Sarah Jordan Photography: sarahjordanphoto.com
3. I need to pinch those cheeks!

Barefoot Photography: tinadoane.com
4. Yay, Christmas!

Ampersand Studios: ampersand-studios.com
5. A perfect Christmas morning.

Aaron Varga Photography: aaronvargaphotography.com
6. Santa's Little Helper.

melissadiep
7. Just look at those dimples.

Getty Images/ Glenda Powers
8. Trying so hard to be a good sport.

Cristy O Photography: cristyophotography.com
9. The Twin Claus.

Getty Images/Maja Argakijeva
10. This little guy is workin' it.

Danielle Brasher Photography: daniellebrasher.com
11. "Well, at least it's not a cat."

Photography by Asiya: photographybyasiya.com
12. What's cuter than a baby? A baby with a kitten.

Jenn Vogt Photography: jennvogtphotography.com
13. The cookie thief.

X & V Photography: Facebook: XVPortraits
14. Can you spot the baby?

Getty Images/ Inara Prusakova
15. Striking eyes.

jennTuttle.com
16. Little Rudolph.

Newborns by Jen: newbornsbyjen.com
17. A growing family.

amyrobertsonphotography.com
18. Adorable.

Getty Images/Hanhan Peggy
19. This baby will grow into that hat eventually.

Getty Images/ VYCHEGZHANINA
20. How can you not love the bow-tie and suspenders?

Melissa Diep Photography: melissadiep.com
21. I'm not sure about the placement here...

Jessica Smith Photography: jessicasmithphotography.com
22. Only at this age will they sleep with unopened presents around.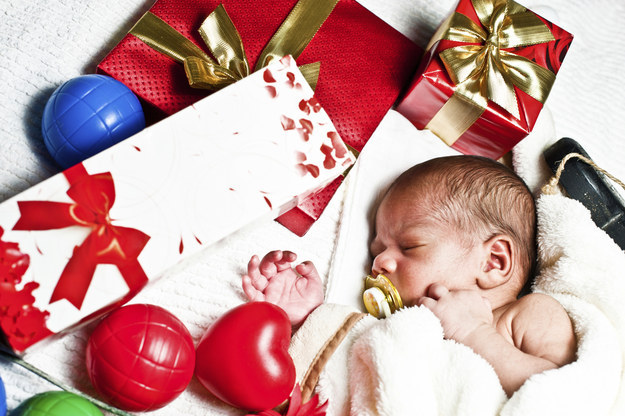 Getty Images/Xerv_II
23. The best kind of special delivery.

Ashley Mickelson Photography: ashleymickelsonphotography.com
24. Sweet little sleigh baby.

Ashley Mickelson Photography: ashleymickelsonphotography.com
25. I feel like someone needs to step in.

Caoline Tran: carolinetran.net
26. A peaceful scene.

Getty Images/Todd Lammers
27. A festive nap.

Shana Simpson Photography: shannasimpson.com
28. Santa's little troll doll.

Rockhill Studio: rockhillphoto.com
29. The night before Christmas.
Sign up for the Grabberwocky daily email, see everything first!