23 Incredible Animations That Show You How Our World Works. This Amazing Footage Will Definitely WOW You.
Our world is so complex and fantastic, that we often don't see some of its wonder. These Animated GIFs sometimes slow down or get way up close to the moment in a way that allows us to view what's always happening around us, that we can't always detect. It is truly wondrous.
1. This is what snake venom does to blood:

youtube
2. Sulphur hexafluoride is much denser than air: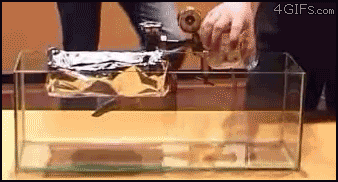 youtube
3. Some octopuses are really good at camouflage:

youtube
4. You can do this with your computer:

gizmag
5. And this is a GREAT example of linear momentum to angular momentum transition:

gifbin
6. This is how chains are made:

boingboing
7. This is how the human face develops in the womb:

youtube
8. This might be how the statues on Easter Island got to where they ended up:

scientificamerican
9. This is how a key works:

gizmodo
10. This is how small Earth is compared to the largest known star:

pandawhale
11. Here's the Pythagorean theorem (a≤ + b≤ = c≤) demonstrated visibly:

9gag
12. This is what it looks like during an arctic summer, when the sun does not set:

huffingtonpost
13. This is how a spring falls:

youtube
14. Here's how ants walk:

buzzfeed
15. Flying snakes exist. They're know as chrysopelea:

buzzfeed
16. When a cheetah runs, it quickly rotates its tail to cancel rotational inertia and minimize torque:

buzzfeed
17. This is what a star being devoured by a black hole looks like:

buzzfeed
18. This is what a cracked egg looks like underwater:

buzzfeed
19. This is how Smuckers Uncrustables are made:

buzzfeed
20. This is how dogs drink water:

buzzfeed
21. This is how a ladybug flies:

buzzfeed
22. This is what it looks like when you throw boiling water out a window at -41 C:

buzzfeed
23. This is how a beanstalk finds support:

buzzfeed
Sign up for the Grabberwocky daily email, see everything first!