22 Totally Cheap And E-Z Halloween Costumes You Can Make At The Last-Minute.
If you're out of time or low on budget, no worries. Here are 26 Halloween Costume Ideas you can pull off with very little time and money.
1. Flower pot costume - All from the dollar store.

dukesandduchesses
2. Wizard's robe - a T-shirt and only 15 minutes.
Get the directions here.


piecesbypolly

piecesbypolly
3. Teenage mutant ninja turtle - Spray-paint a roasting pan.

anightowlblog
4. Medusa headband - glue plastic snakes to a headband and spray-paint it gold.

halloweenforum
5. Frida - fake dollar-store flowers and an eyebrow pencil.

instagram
6. Hulk Hogan costume - Clothing pieces from any thrift store.

ourhumbleabodeblog
7. Thread spider rings onto a little girl's pigtails.
Get the tutorial here.


blogspot
8. Use black tape to create this stick figure.

allfortheboys
9. Paint lines for a college-ruled costume.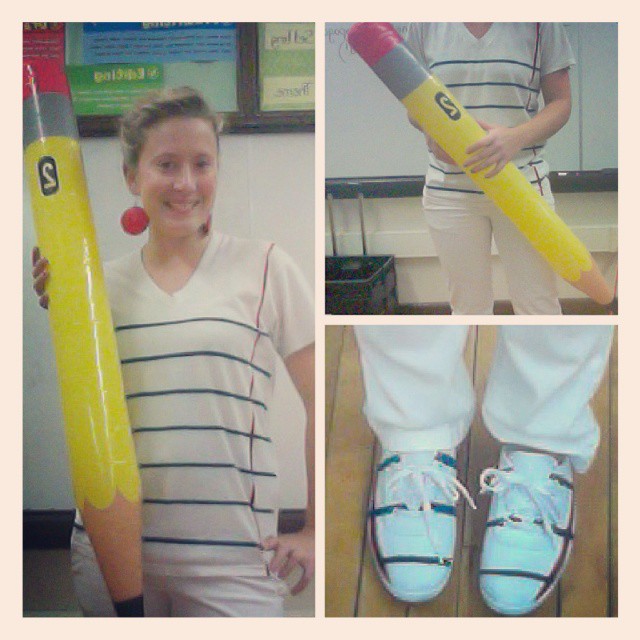 instagram
10. Viking costume - Cut up carpeting.

hgtv

hgtv
11. Snail Shell - Crumpled up kraft paper.
12. Kool-Aid Man costume - Hula hoop, bed foam, and felt.

inhabitots
13. Bat wings - Cut up a cheap or old umbrella.

enviromom
14. gumball machine - costs next to nothing:
Directions here.


dukesandduchesses
15. Glam skeleton - old black clothing and a little face paint.

stylecaster
16. Cactus - Old green sweatsuit and glue some straws on for prickly needles.

inventorspot
17. Easiest costume ever - Glue some realistic-looking bugs to a pair of nylons.

marthastewart
18. EasyMac costume - spray-painted toilet paper rolls.

coolest-homemade-costumes
19. Group Costume: Dominoes - dress all in black and glue white dots to their outfits.

facebook
20. identity thief - a pack of name tag stickers

pleated-jeans
21. chicken cord-on-bleu

coolest-homemade-costumes
22. Three Blind Mice - sweatsuit, cane and sunglasses.
Sign up for the Grabberwocky daily email, see everything first!