21 Pregnancy Photos That Were A Very Bad Idea. Absurdly Hysterical!
These people thought they were being cute, but other words come to mind: strange, funny, weird and bizarre. Really, these photos never should have happened!
1. Just standing mostly naked in the snow. You know, normal stuff.

justmommies
2. Alert. Stalker in the background.

teamjimmyjoe
3. Martial arts. Pregnancy. Flowers. Interesting Theme there.

strangebeaver
4. In your underwear. On a Tub in a field. Everyday living.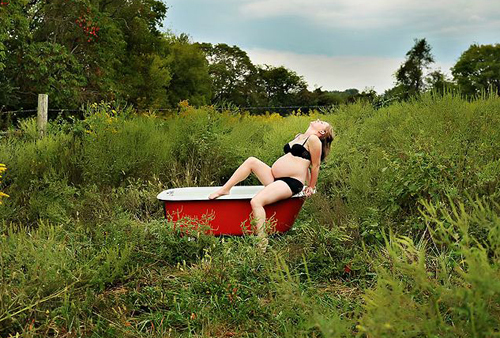 awkwardmaternityphotos
5. This is good practice. Ok, breathe....

pinterest
6. Who are they? Modern day bonnie and clyde?

justmommies
7. Bump. Cute, we get it. But get out of the road...it's risky, dirty and you're pregnant!

pinterest
8. "Hmmm. We need some props. I know...I'll hold this dead turkey! Perfect."

teamjimmyjoe
9. Gosh. I'm not sure if this is man and wife or what?

teamjimmyjoe
10. I hate to burst your bubble...

worldwideinterweb
11. Who are you? Hannibal Lector?

worldwideinterweb
Sign up for the Grabberwocky daily email, see everything first!